Workshop – Day 1 (Marketing the National Theatre as a World-class event center and entertainment hub for Management staff and other relevant departments.
Watch this version of the video on YouTube

Workshop – Day 2 – dwelt on Interagency engagement on the Nation Theatre approach to Wealth Creation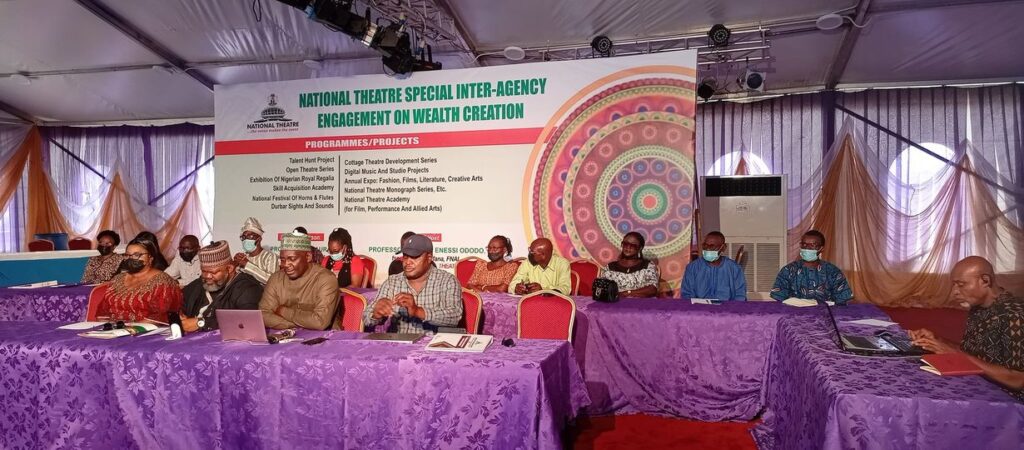 National Theater General Manager/CEO, Professor Sunday Ododo, said during the Workshop that film and music recording accounted for roughly N730 billion of Nigeria's Gross Domestic Product, GDP, in 2020, according to data from statists.com.
Professor Ododo made the revelation in his speech at the "Interagency Engagement on the National Theater Approach to Wealth Creation" held at the Marquee Center of the National Theater.
The interagency engagement forum was attended by several interested agencies, as they were presented with strong deliberation on how to create synergies to help the National Theater fulfill its mandate.
Professor Ododo further revealed that telecommunications and information services accounted for around 8.5 trillion naira, making telecommunications and information services the most viable sector in the creativity and entertainment industry. "Arts, entertainment and recreation brought in 158 million naira, while publications contributed 18.8 million naira".
"Here we have heads of government and parastatal agencies and key players in the creative industry who have contributed to the numbers individually through creative programs, products and content, but rarely collaborative programs."
"Unfortunately, the penchant for 'going it alone' has severely hampered our purchasing power due to the underutilization of strength, insight and sagacity that spread among us. Why have these paralyzing and useless individualistic tendencies persisted among us? The answer is the lack of a periodic inter-institutional commitment in which we can all crystallize our visions, take advantage of our strengths and resources and establish more nationalistic goals", he said.
Professor Ododo called for more collaborations between government agencies and also called for a harmonious relationship between stakeholders in the creative industry.
Read more at Creative Industry Contributes N730bn To Nigeria's GDP In 2020 (nnn.ng)
Or click See the GM/CEO's complete speech.